Long-term commitment to the production and development of energy-saving and environmental protection equipment in the building materials industry
JDLH side air inlet counterflow vertical dryer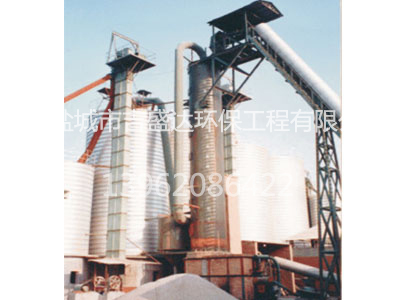 (Patent No.: ZL200520078il4.4)
The dryer combines the advantages of a rotary dryer and other counter-flow dryers, and adopts the international advanced countercurrent mist heat exchange technology to carry out countercurrent movement of the material and the airflow to perform heat exchange in an atomized state. The exchange is sufficient, the heat energy utilization rate is high, the air inlet pipe is eliminated, the air inlet resistance is reduced, and the feeding part adopts a special patented design, and the material is not blocked, and enjoys a good reputation in the daily drying.
Performance characteristics:
1. Less investment: The investment is 30% of the horizontal dryer; the floor space is only 20% of the horizontal dryer.
2, low energy consumption: Compared with the horizontal dryer, it can save 70% of coal (the coal consumption is 8-16Kg/t), save 85%, and the thermal efficiency is 85%.
3, Residual heat utilization: The exhaust gas of 450 ° C in the rotary kiln can be used as a heat source for drying.
4, long service life: The internal assembly is made of heat-resistant and wear-resistant alloy steel.
5, Scope of application: For the drying of clay, slag, iron powder, gypsum, fly ash, ore, quartz sand, dry mortar.
6, technically strong: According to the different moisture content, adhesion, shape, fluidity, angle of repose, etc. of the user's various drying materials, the ventilation area of ​​the inner sliding bowl and the basin aperture of the dryer can be carried out. Professionals are not counted to suit the production needs of different users.
Technical performance table:
Technical
specification
JSLH¢2.0 *16.0
JSLH¢2.0 *18.0
JSLH¢2.0 *20.0
JSLH¢2.3 *20.0
JSLH¢2.3 *22.0
JSLH¢2.3 *24.0
JSLH¢2.7 *24.0
JSLH¢2.7 *28.0
Yield
slag
18-22
24-30
28-35
32-38
35-40
38-45
50-60
60-65
Fly ash
16-20
20-22
22-24
twenty four
26
28
45
48
clay
11-14
15-17
17-20
18-20
21-23
23-25
32
36
Sand stone
twenty two
28
32
33-36
35-40
42-48
54
60
Coal consumption (t/Kg)
10-12
8-10
8-10
8-10
7-11
7-11
6-9
6-9
Power consumption (Kwh/t)
2.0-1.5
1.8-1.5
1.8-1.5
1.8-1.5
1.8-1.5
1.8-1.4
1.6-1.4
1.6-1.4